Who is Brothers for Christ Community Response (BCCR)?
BCCR is an organization founded by Rev. Steven L. Davis, Sr., Min. Cornelius D. Studifin and Lillian K. Davis in the year of 2003. The vision came to Rev. Davis while incarcerated in Ohio in 1997. It was at this time he was in the grips of addiction, contemplating suicide and on a cold concrete floor in the county jail. One thing he knew at that time was that he did not want to continue to live a life in the manner that he had been existing for some years. Praying to God with the hopes that he would get out of jail he heard an audible voice say that he was going to preach his word. Not what he was expecting yet he felt a peace within concerning his situation.
He was sentenced to the minimal time, and he used this time to prepare for his release. Though he did not know it at the time he was only gaining head knowledge and not the application (heart knowledge) of what he was studying. The thought of creating a sustainable outreach ministry that would assist those who found themselves in like situations as he was in was his goal, thus the birthing of Brothers for Christ Community Response, (B. C. C. R.).
Upon release from incarceration in Ohio he transferred his post-release control sanctions to Virginia where his mother resided. He immediately found work which was comprised of two jobs and he was on his way (so he thought) to achieving the level of success that would be the model for those he would assist. After only four months from his release date he reoffended and was incarcerated for the next eight years, eight months and fourteen days for the crime of robbery perpetrated during a crack cocaine induced high. It was at this point he became "Determined and Committed" to serving in his calling. He committed himself to studying himself first and then those around me.
BCCR was officially organized and incorporated in the Commonwealth of Virginia in the year of 2003. From this time until today we have walked in the order of our calling and sought to serve wherever we are needed. We are seeking to be lights to those who sit in dark places and encourage them that they too can recover from a life of controlling issues.
BCCR is based upon five pillars. These five pillars were determined after interviewing over 1,100 men while incarcerated as to what they believed that they needed in order to be successful upon release. These five pillars are: 1. Faith in Christ Jesus, 2. Substance Abuse Recovery/Prevention, 3. Marketable Job Skills, 4. Family, 5. Education. Though there is no specific order these five areas stood out with those interviewed. BCCR is Christ centered though anyone having a need of our service is welcome providing funding is available.
BCCR is comprised of several ministries within itself. Those ministries consist of: Reentry and Recovery, Feeding the homeless and less fortunate, Assisting the senior members of the community, Jail and prison outreach, Life Coaching and consulting, a men's sober living house The Gray House and our latest endeavor Harmony and Hope Houe for Women a women's sober living house. Our primary focus is assisting those who are returning to society from incarceration, rehabilitation, or some other form of confinement to become and remain productive, contributing, Christ centered members of our community.

Steven L. Davis, Sr
Founder/President
Rev. Steven L. Davis, Sr. serves as the President and is the founder of B. C. C. R. He was born and raised in Cleveland, Ohio. Rev. Davis came to Bristol in 1999 to assist his mother and to make a change after being released from prison. Rev. Davis lasted a mere four months before reoffending and returning to prison for almost nine years. Since his release 13 years ago Rev. Davis has worked at creating an environment conducive to assisting those who find themselves in like situations as he once found himself (Substance addicted, incarcerated and without any hope), become and remain productive contributing members of society.
Having developed this ministry while incarcerated he has since implemented the vision within the Southwest Virginia and Northeast Tennessee region. Some of the areas of work are active prison reentry ministry, feeding the homeless, working with youth with back-to-school projects, assisting senior community members, coaching/consulting Returning Residents and their families, "The Gray House" a men's sober living home, and our most recent endeavor "Harmony and Hope House for Women" which opened February11th of 2022.
Rev. Davis strives to be an example to those he assists. He is a former pastor (of 6 years), a QMHP-A, a Certified Peer Recovery Specialist, a Reentry/Recovery coach and consultant and published author of YOU Better Know the three knows that got me through, he possesses his master's degree in Human Service Counseling Addiction and Recovery, has over 39 years of lived experience, and 16 years in long term recovery. Rev. Davis is seated on several boards within the community.
Rev. Davis resides in Abingdon, VA with his wife Ann and their five children.
Tim Landis
Vice Chair of the Board
Mr. Landis serves as our Vice Chair of the board of directors. Tim is a retired fly fishing guide, who annually still conducts fly fishing schools and corporate events. Prior to his fishing vocation, Tim was a corporate helicopter pilot. He began his aviation career in Army in 1967 after graduating from high school Kokomo, Indiana. He flew for the military here in U.S., in Germany and as a combat assault helicopter pilot in Viet Nam. Tim is an avid outdoorsman and has camped, rafted, canoed, fished and backpacked across much of North America, the Caribbean and Europe.
He and his wife Ann have been married for forty-four years and live in Bristol, TN. They are active members of Central Presbyterian Church in Bristol, VA. Tim enjoyed mission work in Appalachia through the auspices of the Mennonite Central Committee in partnership with Central Presbyterian. He also devoted time working on more than a dozen Habitat for Humanity houses in the Bristol area.
Tim enjoys vocal soloist performances at Central and other local churches, civic events and art series concerts. His musical aspirations are simply to share his gift with other people by studying and performing more. Tim brings a unique perspective to Brothers for Christ Community Response through his experience of helping individuals who are or have returned to society become and remain productive contributing members of the community.
Ella Annette Pearson-Kane
Secretary of the Board
Ella serves as the secretary of the board of directors. She is a Community Health Access & Navigation in Tennessee Team Lead with the Tennessee Department of Health. Ella manages and leads Home Visiting Care Coordination Teams, in Carter, Johnson and Washington Counties, providing all aspects of direct and reflective supervision, coaching and training.
Ella is a qualified Social Worker and holds the Bachelor of Science degree from East Tennessee State University. In addition, Ella holds a Masters of Professional Studies Degree with concentration in Strategic Leadership from East Tennessee State University.
Ella is a no stranger to advocating for social justice and fighting against social injustice, having spent 15 years with the Tennessee Department of Health and as Chair of the Bristol Tennessee Public Housing Authority
Ella has more than 34 years of experience as a service-oriented business professional in non-profit/governmental and for profit agencies. Before joining the Tennessee Department of Health in 2004, Ella worked 25 years for a diverse range of organizations, including Tennessee Highway Patrol, City of Bristol Tennessee, Navy Federal Credit Union, Capital One Banking and Kane Trucking.
Ella specializes in creating multicultural awareness and has successfully served a range of clients to include: Bristol Tennessee Housing Authority, Bristol Tennessee Community Development Advisory Board, Carter, Johnson and Washington County Advisory Boards and Brothers for Christ Community Response Board.
Passionate about human-beings and their possibilities, Ella provides exemplary public service through helping disadvantaged individuals address, manage and resolve various social problems. Ella treats each individual in a compassionate and respectful way that is mindful of individual differences, cultural norms and ethnic diversity.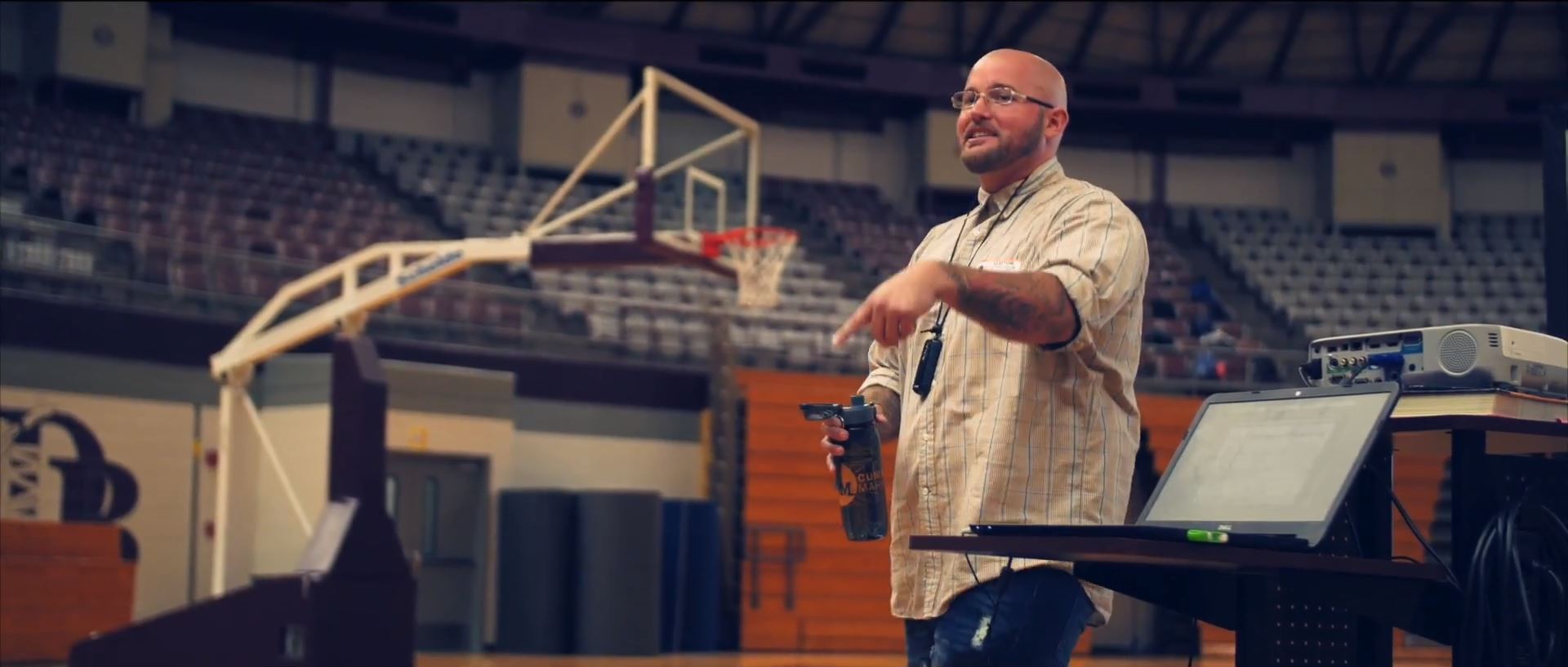 Sean Statzer
Treasurer/Director of Media
Sean Statzer serves on the board of directors as Director of Media. Born and raised in Bristol, VA. He is the Training Coordinator for VA Operations at Strongwell Corporation and Creative Producer at Technically Aesthetic Media.
As a former convict himself, Sean has had a very successful reentry after 10 years of incarceration. Since his release he has worked to "help restore the community (he) once worked to destroy" and has served as the President of Stay Stirred Up, a non-profit organization aimed at character and talent development for at-risk youth, and has been in constant mentorship with other returning offendors to offer guidance, advice and encouragement from his own experience.
Sean has long been known as an activist for at-risk youth, criminal justice reform and the need for reentry programs in the increasingly poverty-stricken communities of Bristol VA/TN.
He provides mentorship to men in the Gray House as well as lends his talents as a professional videographer and photographer to create media content for BCCR ranging from educational reentry and character building videos to promotional content.
Sean Statzer resides in Bristol, VA with his wife Thomasina and their children.
Dr. Jon Darnell
Board Member
Dr. Jon Darnell is a sitting board member. He was born and raised in Kingsport, TN.  He worked for 47 years in the Papermill in Kingsport through many ownership changes.  While serving his community and church and working a full time job was his lifestyle.  He has served on many church boards, organizations, and was often a Deacon, Elder, Sunday School Teacher or a committee leader.  Dr. Jon has a heart for missions and has been to over a dozen different countries around the world.  Dr. Jon retired from factory work in June of 2018 but he continues to Pastor and serve the community.
Experience:
Mead Papermill in Kingsport, TN. ZD sheeter operator; Liberty Life Insurance in Kingsport, TN; Salesman Blue Ridge Glass in Kingsport, TN; Laborer Meade Papermill in Kingsport, TN;  Shift Worker, ICS Apprenticeship (4 year) Supervisor of Apprentice Willamette Industries in Kingsport, TN; Millwright Supervisor of Apprentices Weyerhauser in Kingsport, TN; Millwright Supervisor of Apprentices Domtar in Kingsport, TN;  Multi-craftsman Supervisor of Apprentices; Pastor, Harvest Christian Fellowship in Bristol, TN
Education:
Lynnview High School, Kingsport, TN, Milligan College, Johnson City, TN, Rhema University, Orlando, Florida
Board Services:
Agape Global Missions, Christ Fellowship, First Apostolic Church of Morrison City, Women's Aglow Advisor, President of Bristol Area Ministerial Alliance
William J. Reid
Board Member
Pastor Reid is a sitting board member. He is a native of Anniston, AL. He attended school there where he graduated from Saks High School in 1976. He furthered his education by attending Selma University, University of Alabama and Oak Park Theological Seminary, Oak Park, Ill.
Having accepted the call of the gospel ministry at an early age (10-years-old) he has served as pastor of various churches for over fifty years. He is currently the pastor of the Greater New Hope Baptist Church where he has served as senior pastor for the last 27 years.
The expertise that Pastor Reid bring to Brother for Christ Community Response stems from his service in various capacities to the communities in which he has resided. Some but not all of his services have included Snow Creek Baptist Association-Youth Director, Tennessee Baptist Missionary Convention-Statistician, Baptist General Convention of Virginia-Secretary and Vic President, Bristol Area Ministerial Alliance-President, Bristol Virginia Housing Authority-Neutral Liaison, the Community Awareness Commission and Board member of the Greater Lee Street Baptist Church's Martin Luther King Jr. Scholarship Committee.
Pastor Reid is married to the beautiful Sylvia Reid. They have three children, eight grandchildren and one great-granddaughter. In his free time Pastor Reid enjoys music and motorcycle riding.
Tasha Herndon, C.N.P.
Tasha was born and raised in southwest Virginia and has always had a love for the beautiful Appalachian area. Her interest in healthcare started as a toddler and she has continually progressed within the nursing field. Her nursing education started with an Associate's degree in 2013 from Southwest Virginia Community College, with the intention of pursuing a Master's level education in the future.
She received her Bachelor's in Nursing from King University in 2015. With an intimate desire to become an advanced practice nurse and a heart for sex trafficked victims she was led to enter graduate school. In the summer of 2015, her interest led her to start on her Master's in forensic nursing at Duquesne University. Because of a loss in her immediate family she put that degree on hold. After much prayer, her faith gave her the guidance to go back to King University to obtain an education to become a Family Nurse Practitioner. It is her intent to revisit Duquesne University and obtain a post graduate degree in forensic nursing and later become a Forensic Nurse Practitioner.
It was during her time of nurse practitioner education practicums, where she had the opportunity and pleasure of meeting Dr. Halstead and his amazing team that she then developed an interest in addiction medicine and longed to work alongside Dr. Halstead and his team to meet the needs of those who are suffering with SUD/AUDs. When not working she enjoys the outdoors, weightlifting, going to church and most of all spending time with her significant other Brad , and family. Tasha brings a new dynamic into the overall care of our patients here and we are glad to have her on board.
Design settings and even apply custom CSS to this text in the module Advanced settings.
Your Title Goes Here
Your content goes here. Edit or remove this text inline or in the module Content settings. You can also style every aspect of this content in the module Design settings and even apply custom CSS to this text in the module Advanced settings.
Jessica is the newest team member at Renaissance medical care and has been a team member since November of 2020. Jessica brings her lived experience to the table as a peer recovery specialist. She believes that everyone is capable of change. Jessica is a life long resident of Chilhowie Virginia, she is married to her husband Todd. The two of them share their sons Dustin and Ethan. Jessica enjoys the outdoors, especially boating and lake life.
Your Title Goes Here
Your content goes here. Edit or remove this text inline or in the module Content settings. You can also style every aspect of this content in the module Design settings and even apply custom CSS to this text in the module Advanced settings.